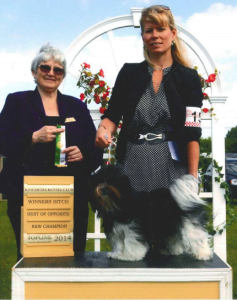 Welcome and thank you for your interest in Amistosa Havanese. My name is Terri Fudge and my husband and I live in Ajax, Ontario. I am a branch manager and have worked in the Financial Services industry for over 36 years. We have 4 grown children; a son 32, twin daughters 29 and our youngest daughter 21. Our other "kids" are our 10 Havanese, although they don't all live with us. Our girls are Piper 4 years and Quinn 2 1/2 years, Autumn almost 2 years, Genie almost 2 years and Mikka 7 months.  Our boys are Finn 6 1/2 years, Fawkes 4 years, Toby almost 5 years, Chewy 2 1/2 years and Whiskey 1 year.
I'd like to share a little bit about the journey that has brought us to where we are today.
In September 2005 we purchased 2 Doberman puppies from what we later found out was a less than scrupulous breeder. At the time I was inexperienced at sourcing out a reputable breeder and although I thought I had done my research, I didn't ask the right questions regarding health testing. Unfortunately they were not up front regarding one of the puppy's health issues and after some very high vet bills and heartache, we lost our little boy at the age of 5 months to congenital heart failure and we were brokenhearted.
In due course, I started researching small dogs that would offer lots of personality, had a wonderful temperament and greater longevity. I stumbled across a breed I had never heard of, the Havanese.
In the meantime, the breeder "replaced" the little Doberman boy that we lost with another puppy in early 2006. We fell in love with our new puppy Holly and were fortunate to have her for approximately 7½ yrs until we lost her to bone cancer in November, 2013. Holly's whole life was riddled with health issues requiring lots of medications – it cost us a small fortune to keep her comfortable and give her quality of life. She had bladder incontinence, thyroid disease, degenerative joint disease and then finally cancer which took her before her 8th birthday.
When Holly was 1 year old, we brought home our first Havanese, our little 9 week old Lacey. Although Holly was a sweet, gentle giant, I was a little concerned she might play too rough or not tolerate Lacey very well. My concern was short lived. Lacey and Holly became fast friends and Holly let Lacey do anything she wanted, including chewing on her ears and nibbling on her food.
Several years ago I became interested in learning about the dog show world and perhaps even one day breeding my own litter of Havanese. Soon after, I met Rita Thomas of Sonrisas Havanese and she has been a wonderful mentor and friend. Her dedication to bettering the breed through genetic diversity testing and putting health first and foremost is what I mirror my breeding program after.
I am dedicated to breeding and showing healthy, well socialized Havanese. My earlier experience with a breeder who was not responsible about health testing nor transparent with her puppy families, has only strengthened my commitment to extensive health testing on the dam (mom), the sire (dad) prior to breeding to ensure the good health of our puppies when they leave for their new homes.